Every time you turn around it seems like someone is trying to scam, steal, or defraud you of your hard-earned cash. Today's con artists have tools, technology, and strategies to clone credit cards, social profiles, and phone numbers. It's no wonder fraud losses topped nearly $6,000,000,000 (six billion dollars!) last year, a 70% increase from the year before, according to the FTC.
It's sad to have to acknowledge it, but these fraudsters are committed to their careers and continually adapt to the times – from selling potions through newspapers, to mail fraud, then telephone, email, and now even through texting.
It's this latest scam, using Short Messaging Service (SMS) messages, that's particularly violating. We have all experienced phone calls and email scams, but our text messages were supposed to be off-limits.
Those days are gone. Sigh.
Chances are you've received one of these scam texts already, called "Smishing."
According to RoboKiller, a technology company that claims to screen 99% of spammy calls and texts, there were over 12 billion of these scam text messages sent in July of 2022 alone.
Recognizing a Scam Text
Smishing scammers are creative, but there are some red flags to watch for so that you don't fall prey.
First, these texts are often random, unexpected, and not relevant to your current circumstances or activities. They may refer to an online purchase, a package delivery, or a credit card you don't have.
Second, there may be typos or spelling errors, or the text just doesn't seem professional. Here's one I received in October- clearly this is not from my bank! Note the incorrect grammar and repeated use of exclamation marks. (Ok, I like to use exclamation marks too, but I don't expect them in a message from my bank.)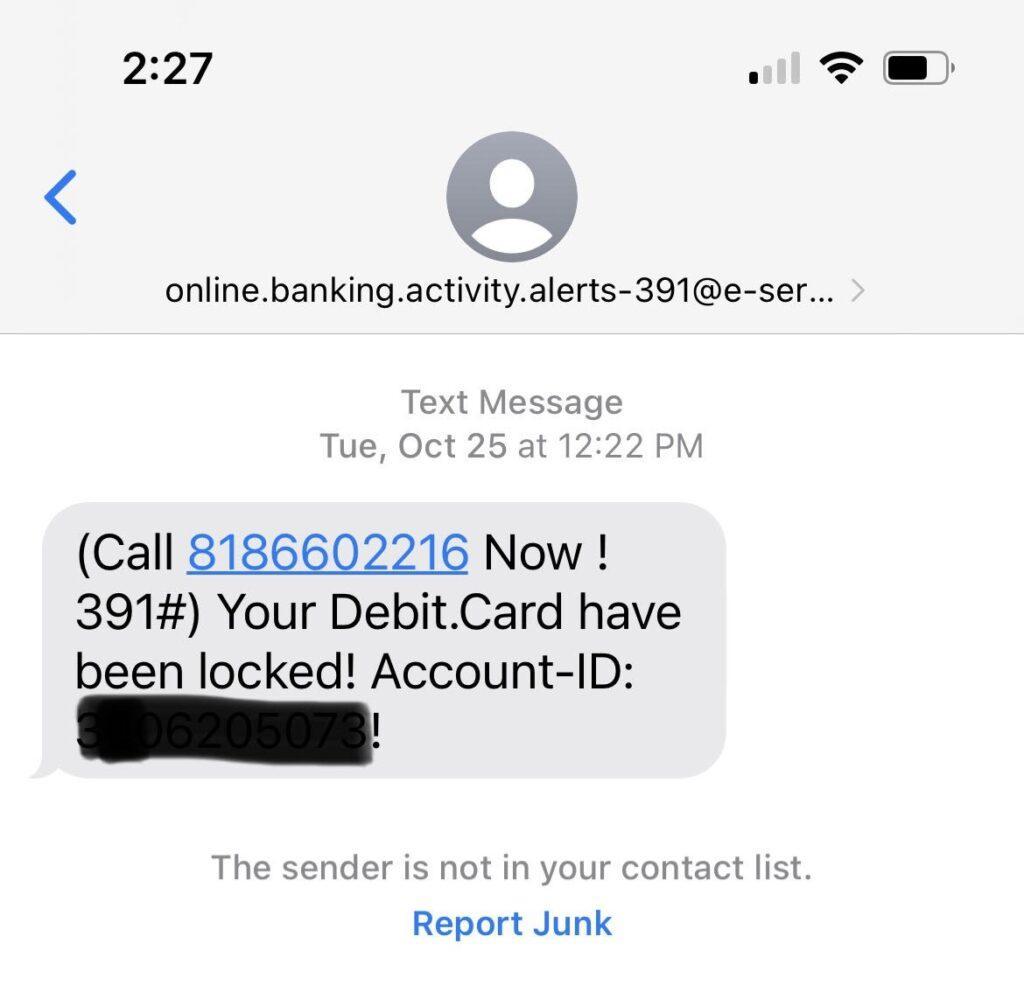 Handling Smishing Attacks
Don't freak out or panic if you suddenly get one of these texts, I know it is a violation of your privacy for scammers to target you directly via text, and some of these messages may indicate an emergency of sorts.
But slow down. Take a breath.
How to Respond to Suspicious Texts
Don't reply at all. By doing so, you are validating your phone number and opening yourself up to more spam
Don't click any links. Scammers use these links to download malware and spyware to your phone to steal your information.
Don't call any numbers provided in the text message. These numbers are controlled by scammers. If the text says it's from a company you do business with, such as your bank, look up their customer service number and call them for verification.
And if you ignore these first three suggestions, and insist on clicking a link, responding, or even calling them at the number they provided, then at the very least, please do not provide ANY personal information. Many scammers pretend to be government agencies, like the IRS, Medicare/Medicaid, or the VA. Government agencies will never ask you for personal information via text message.
The best way to protect yourself is to be super careful about who you even give your phone number to.
As a mobile notary, my phone number is distributed quite freely via websites, business cards, etc. so it's a risk I am willing to take to be of service to my clients.
Reducing the Risks
Keep your phone's software updated. You can usually automate this to happen in the middle of the night, so you'll barely notice.
Block suspicious numbers when they call or text.
Report spam & scams by forwarding the messages to 7726 (SPAM). This empowers your carrier to investigate and even shut down numbers and websites that are causing trouble.
Consider using a third-party spam protection app, like RoboKiller or others.
If you are interested in how to specifically block spam, and add spam filters on your particular device, cyber-security company Norton offers step-by-step instructions for both Apple and Android products in their article here
The sad reality is, that despite our best efforts, we may still fall prey at some time to phishing and smishing scams.
In the same way that you carry home & auto insurance just in case, you might consider identity theft protection and monitoring. I have personally been a victim of identity theft and know firsthand how difficult it was to handle it on my own.
For this reason, I recommend ID Shield, so that if, and when, something does go awry, you will have the support and resources you need to recover.
Linda
Linda Benningfield is a professional mobile notary, loan signing agent, and apostille facilitator living in the beautiful Pacific Northwest.
Linda is also an independent associate for LegalShield / ID Shield providing affordable protection plans to individuals, families, and businesses.
Connect here: linda@precision-notary.com